THE LIVE WITH BIG HOLY SHOW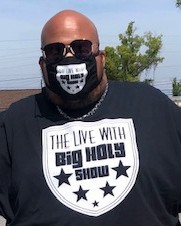 LYNVA MASSLIENO, JR., Lead Pastor
Lynva was born and raised in Panama City, FL and is a proud resident of Bay County. He attended Bay High School where he was a 4-year Letterman and starter on the schools football team, class of 1990. He is a retiree of Gulf Power Company where he was a faithful employee for 17 years.
Evangelist Masslieno is a committed servant and Son of God. He has a heart for people in need and will go to great lengths to assist anyone. He has the honor and privilege of serving as the Lead Pastor of Kingdom Agenda International Ministry's, The Kingdom Impact Center in Panama City, Fl.
In spite of a troubled background, through Jesus the Christ, Lynva has not only made a difference in his own life, but in the lives of countless others by using his past faults to affect his future circumstances. He has had the opportunity to proclaim Gods Word in many cities in the United States, and overseas in Haiti.
Pastor/Evangelist Masslieno is also the founder of Big Holy Ministries Inc. There are many outreach events that come out of this ministry. One is "The God of This City" City Wide Tent Revivals. He has conducted numerous street revivals in different cities in Florida such as Panama City, Port St. Joe, Ft Walton, Ft Walton Beach, and Apalachicola. In addition, different cities in Georgia have also hosted revivals where lives have been changed and salvation has taken place.
After Hurricane Michael devastated his city, his team was onsite at The Impact Center on the Sunday after the storm where for the next 250+ days they were a major part of The Hurricane Michael Relief Effort. He deemed his property as a Command Center. This was a place where people could bring donations to be distributed into the community. It would be fair to say there were close to $1M worth of supplies distributed from The Impact Center. They also served over 10,000 hot meals from our facility. They were able to impact their city on this magnitude because of the relationships that had been formed. His focus was to impact his community and be a blessing to his city. This feat required strong leadership skills, scheduling to receive resources, volunteer scheduling and recruitment, volunteer and coordination of volunteers from all over the US. He also coordinated and received work orders from the community who had sustained damage from the hurricane and needed repairs. He also vetted work orders, and dispersed teams to perform work. Currently he is serving as The Disaster Recovery Grant Assistant Director for Northwest Florida Health Network. He assisting with directing millions of dollars of financial resources into his county, and surrounding counties, directed at mental health and substance abuse recovery.
Pastor/Evangelist Masslieno
has the honor of serving on the Board of Directors of LEAD Coalition (Leadership, Empowerment, and Authentic Development), The Board of Directors of NAMI (National Alliance on Mental Illness), a member of The Executive Committee of Rebuild Bay County (The Longterm Disaster Recovery Organization), Co-Leader of The Emotional And Spiritual Support Committee (Rebuild Bay County), he is also a member of Pastors United, and Part of Circuit 14 Community Alliance, and also the Circuit 14 Faith Community Collaboration Workgroup Start-up Team.

Pastor Masslieno is married to his lovely wife Felicia for 22 years l, and is the proud father of 3 beautiful children; DaiQuan, Lynva Jr. and Alana.
With a focused intention and willful purpose we will affect our community, city, state and nation for Christ glory!

Broadcasting: MONDAY 6PM EST
audience
The suggested audience for this show is community and family; however, we encourage the entire family to watch together and grow with us.
income bracket
The suggested income bracket for this show is low to upper class; however, we encourage everyone to watch and grow with us.
education level
The suggested education level for this show is everyone. We encourage everyone to watch and grow with us.
DESCRIPTION
The "Live With Big Holy" show is a dynamic action based community show with an energetic well known host in Big Holy. The show contains interviews with community activist, community leaders, city officials, musical artists, celebrities and so much more. It will cover all the latest events and happenings in Panama City, FL and you will also be invited into the life of Big Holy! LETS GO!!!